David Gatehouse 18th November 2018
PRESS ARTICLE PUBLISHED in FAR OUT MAGAZINE reviewed by DAVID GATEHOUSE
Dazzling 'image conscious' photographic festival debuts in Harrogate
Boy, does Harrogate need more events like this.
And Photo North is just one of the shiny assets it should clasp jealously to its heart, nurture and promote. The stunning photo show's debut was not only the first of its kind in Yorkshire, but unlike any other anywhere in the UK.
The works of some of the world's top photographers were in town to be presented through an exciting range of interactive events under the single roof of Harrogate's imposing convention centre.
The curators of Photo North, Sharon Price and Peter Dench, secured the participation of iconic names, such as Tish Murtha, Harry Borden, Jane Hilton, Tom Oldham, Tom Stoddart, Paula Bronstein, Jenny Matthews, Anastasia Taylor Lind and Dean Belcher.
Their full scale, Olympus-sponsored event brought together hands-on professional workshops, previously unseen imagery and dazzling, often haunting content with a live music social and a dynamic, accessible vibe that throbbed and buzzed all weekend.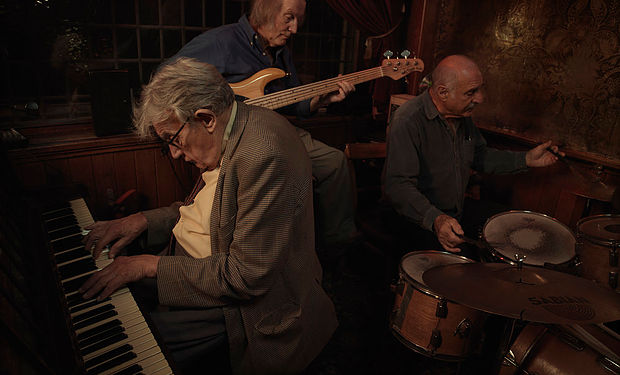 With a backdrop of street food vendors, performers and licensed bars, the host of exhibitions, book and magazine stalls, photo walks, portrait salons, workshops, portfolio reviews, film screenings and chat – all championing photography to the public across the three-day festival.
The music themed line-up included 12-year-old breakthrough acoustic artist, Poppy Eaglesham, currently featuring on the BBC's 'Got What It Takes', playing alongside Keeper of Bees and local classical pianist, Karen Singleton.
The harmonics continued with the co-founder of the Global Underground movement, Dean Belcher. His 'My First Vinyl' show saw sitters for his portrait salons with their first ever 45 or album serenaded by an old school turntable record player.
Despite its life-enhancing vibrancy, though, the photo collections on display also addressed sober themes, including austerity, poverty and homelessness, drug addiction and urban decay.
Straddling the one hundredth remembrance weekend, there was a strong focus on the centenary commemorations, with many previously unseen images on show. Tom Stoddart's 'Shadows of War' was a stunning reportage of the WWI battlefields and memorials in Belgium and France.
The headline armistice exhibition was 'Women and War', curated by the Imperial War Museum and Anne McNeill of Impressions Gallery. The display of female photographers examined the impact of war on women – from those who fought to mothers displaced by conflict and the many courageous stories behind them.
Unflinching in their evocations of industrial-scale death and destruction, both emotive portfolios were entirely without fatuous themes of victory, glory and nationalism – crucial in these nervous times, when populist, confrontational politicians are coming out of the woodwork.
Attracting more than 500 visitors across its three days, including professional photographers, photo-enthusiasts, keen amateurs and many who simply wanted to engage with the timeless medium, Photo North is the UK's most exciting, engaging new picture exhibition.
With a firm thumbs up from every other attendee I spoke to, I imagine I am not alone in already looking forward to the lively, inclusive and thought-provoking event's return next year.